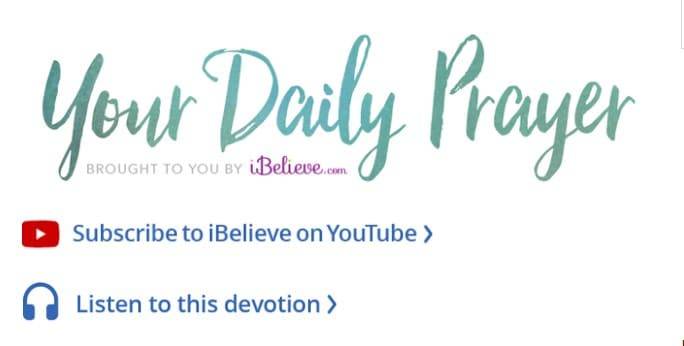 Your Daily Prayer for 31st October 2021 – A Prayer to Forgive Wrongs
Welcome to Your Daily Prayer for Sunday 31 October 2021 – A Prayer to Forgive Wrongs. May the Lord hear and answer your prayers.
TODAY'S DAILY PRAYER FOR SUNDAY 31 OCTOBER 2021
A Prayer to Forgive Wrongs By Meg Bucher
SCRIPTURE: "Then Peter came to Jesus and asked, 'Lord, how many times shall I forgive my brother or sister who sins against me? Up to seven times?' Jesus answered, 'I tell you, not seven times, but seventy-seven times.'" – Matthew 18:21-22 NIV
"Mom," my oldest said in her most mature voice as she walked up to my pool chair, notebook in hand.
"What do you want to talk to me about?" I asked, already knowing the answer was either a ploy to get something she didn't already have, or a surefire way to get her little sister in trouble.
Your Daily Prayer for 31st October 2021 – A Prayer to Forgive Wrongs
"I just think you need to be aware of what she has done at the pool today."
Though no alerts had pinged my momma radar, my eldest daughter proceeded to rattle off a very nit-picky list of things that annoyed her about her little sister.
As today's verse instructs us, we are not to keep a running list of wrongs in our heads, but to forgive and release who and what has hurt us. (Of course, boundaries are important… very, very important… but they do not negate forgiveness.)
In Peter's defense, there was an actual number of times Judaism taught it's followers as "enough" to forgive. But Jesus spoke of a "more excellent way." We are not to withhold forgiveness… ever. We forgive, and leave the one who hurt us in God's hands, who is the only one capable of judging a heart accurately and allowing just consequences for sinful actions.
Peter was seeking to do the right thing, and we can all relate to a desire not to be taken advantage of. The NIV Application Commentary actually describes his generosity to lend more than twice the previously allotted amount of forgiveness: "His offer to forgive the person seven times, more than double the above-mentioned statements, is magnanimous, reflecting a desire for completeness that the number seven usually evokes."
How often do we seek to do the right thing, but misunderstand? Jesus clarified Peter's confusion by telling him to extend forgiveness without keeping count. The sisterly poolside spat was easy for me to defuse because I'm their mediator. However, I admittedly find it hard to extend an unlimited amount of forgiveness to those who repeatedly and unapologetically cause hurt and pain in my life. Injustice continues to run rampant in our world, yet we are to maintain a forgiving status. Why? Because God is our Defender. God is never asking us to be a doormat. But to forgive authentically from the seat of our hearts? That's a no-brainer for Christ-followers. Why? Because He did.
"What would happen if your sister kept a list like this of all the things you've done to her?" I asked my oldest. "Be quick to forgive, give the grace you want to receive, and remember Jesus did not … and will not ever … present you with a list of what you've done wrong in your life. He went to the cross and died for you …because He loves you."
She camouflaged her eye-roll, but I relate to how hard it is to apply this note of wisdom to our lives when we don't feel like it. Paul wrote to the Colossians, "Bear with each other and forgive one another if any of you has a grievance against someone. Forgive as the Lord forgave you. And over all these virtues put on love, which binds them all together in perfect unity." (Colossians 3:13-14 NIV) Prayer and time in God's Word will give us the strength to stop jotting down wrongs and instead lend forgiveness more authentically and automatically.
Let's pray now for soft hearts that are ready to quickly forgive.
Father,
This is the day You have made, we will rejoice and be glad in it. Father, you hold the key to every heart on earth, we do not. Judgment for others is not in our hands, and shouldn't be on our resumes. As we seek You more each day in prayer and in Your Word, show us how to be forgiving, in Christ. Cleanse us of our tendency to keep records of wrongs and reasons for blame.
Let us not become people who shame others, but show them how to be free through Christ. We want our lives to reflect Your brightness, Your grace, and Your love.
In Jesus' Name, Amen.
Thanks for reading Daily Prayer for 31 October 2021 – A Prayer to Forgive Wrongs
[xyz-ihs snippet="End-of-Post"]